On 5-6 November last year we were delighted to host the second EMOTIVE User Workshop in Athens, Greece. This two-day event was attended by a select multidisciplinary group of museum and heritage experts as well as representatives from all partners on the project (see the full list of external participants at the end of this post). Over the course of the workshop, our guests witnessed demonstrations, tested prototypes, and participated in activities all based on work developed during the project.
Read on to discover the activities on Day One (Day Two coming soon!).
Day One: 5 November, 2018
The workshop began at the Athens University History Museum with a welcome and brief introduction from Maria Roussou (ATHENA) (Figure 1). Sara Perry (University of York) then followed, setting the overall context for the project and introducing EMOTIVE's conceptual framework (Figure 2).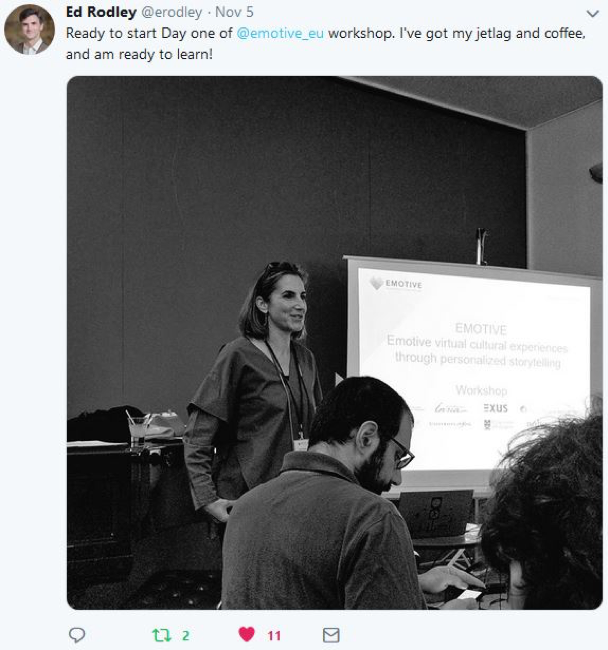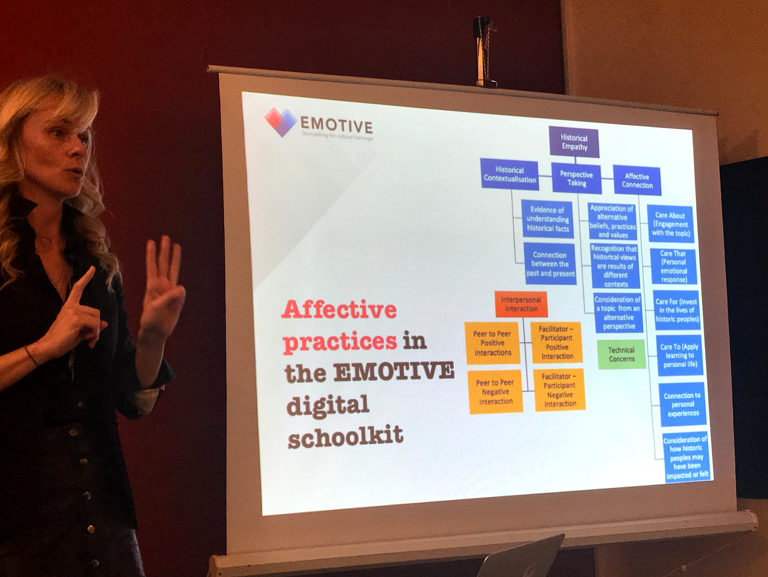 After that, with such an enthusiastic, knowledgeable group and a packed agenda, we moved right along to the first session:
Hunterian digital storytelling experience
The demonstrations began with a run through and evaluation of "Ebutius' Dilemma", a digital storytelling experience developed for Hunterian Museum at the University of Glasgow.
Our guests were directed to a dedicated room in the Athens University History Museum, which had been set up to simulate the Antonine Wall Gallery at the Hunterian (Figure 3). There they were divided into pairs and given mobile phones and headphones. Then they began…
The Ebutius narrative is a fictional portrayal of a Roman soldier faced with a difficult choice. The Roman army is abandoning the Antonine Wall - his home for 20 years - and he must decide whether to leave with them or abandon the army and stay with his partner and child. A detailed description of the experience can be found in the deliverable D3.7 Pilot experience prototypes.
The group engaged enthusiastically with the experience and immediately began to provide insightful critical commentary. As they progressed, our EMOTIVE researchers observed, took notes and helped when needed (Figure 4).
At the end, our experts were asked to fill out questionnaires and were interviewed in pairs by members of the EMOTIVE team (Figure 5).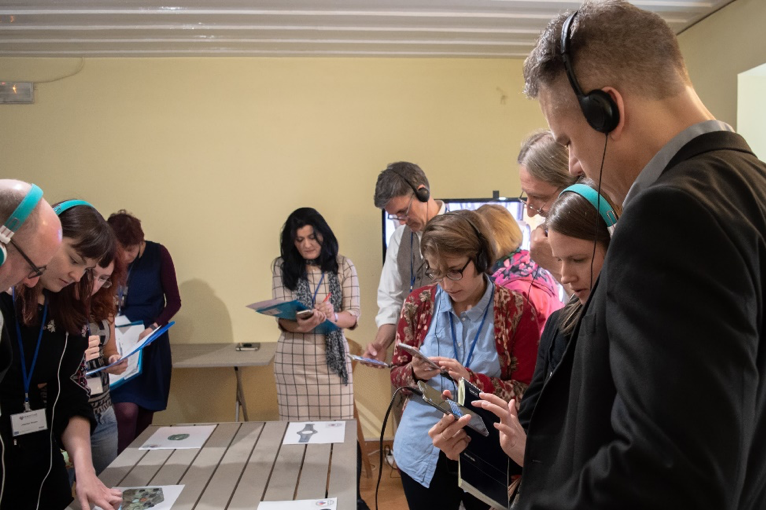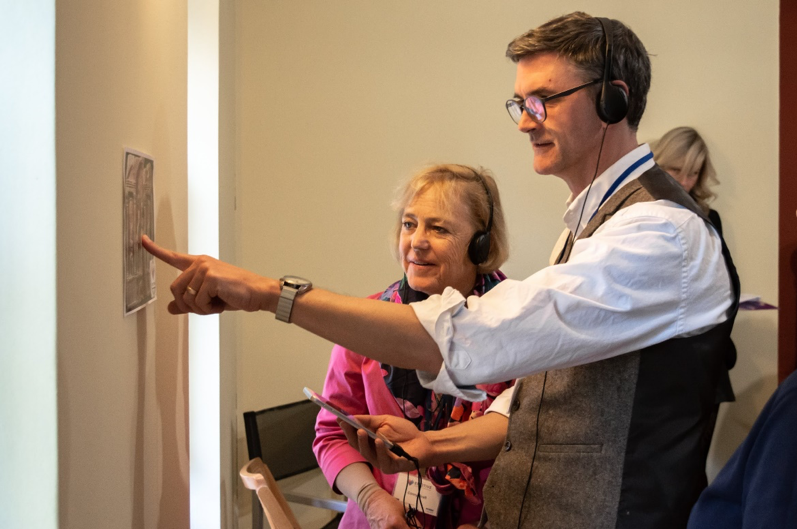 Figure 4: Experts experiencing the Hunterian Museum's story in a simulated space.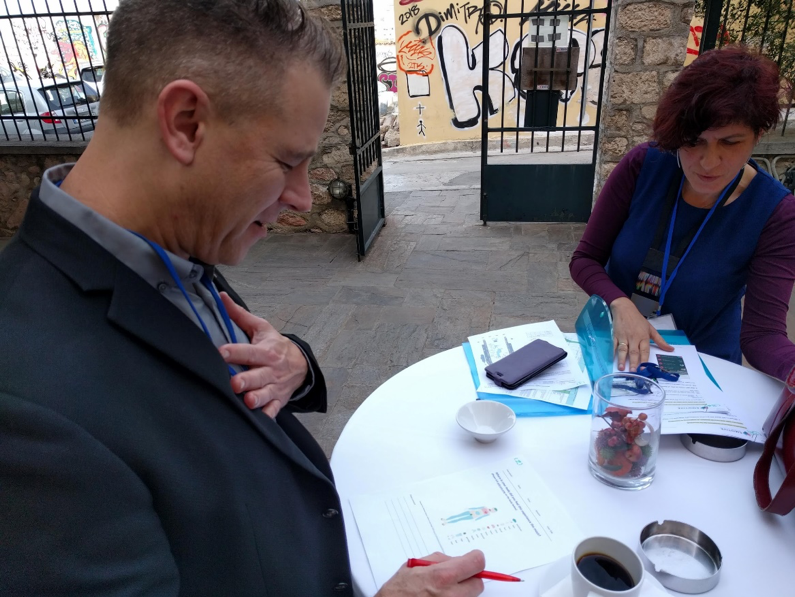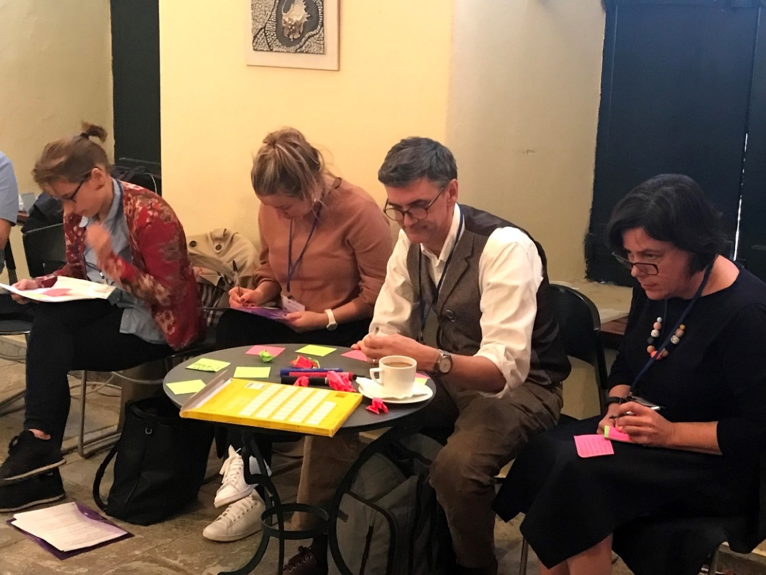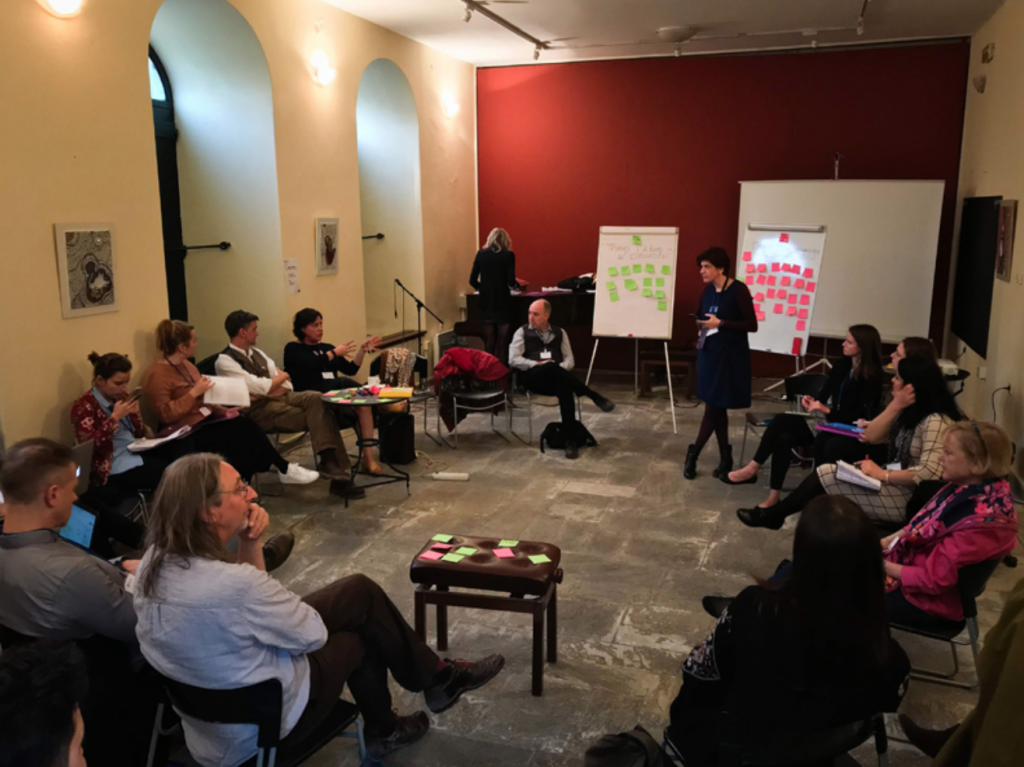 Evaluation of outdoor and indoor experiences at the Ancient Agora
After a very productive discussion and a short break, the group walked the short distance to the archaeological site of the Ancient Agora of Athens (Figure 8). There they evaluated a prototype version of another storytelling experience, "1001 Stories at the Ancient Agora".
Our goal in this session was to examine and discuss how a digitally augmented visit in a real museum or archaeological site can be effectively evaluated. Our guests were split into two groups and took turns going through the two digital experiences created by the ATHENA team for demonstration on site:
'Emotions Speaking', an indoor experience is a location-aware application which makes use of a custom tangible object to guide interaction through short emotionally-led stories (Figure 9)

'Hermeias the Slave', an outdoor experience where the visitor follows an interactive story spanning a large part of the outdoor space of the Agora (Figure 10)
Afterwards, we walked back to base at the Athens University History Museum and had another lively and informative discussion about the experience.
As the morning came to a close, all the engaging, evaluating, active listening and critical thinking (and not to mention the walking in the Greek sunshine) meant our team - invited experts and EMOTIVE partners alike - were ready for only one thing...lunch!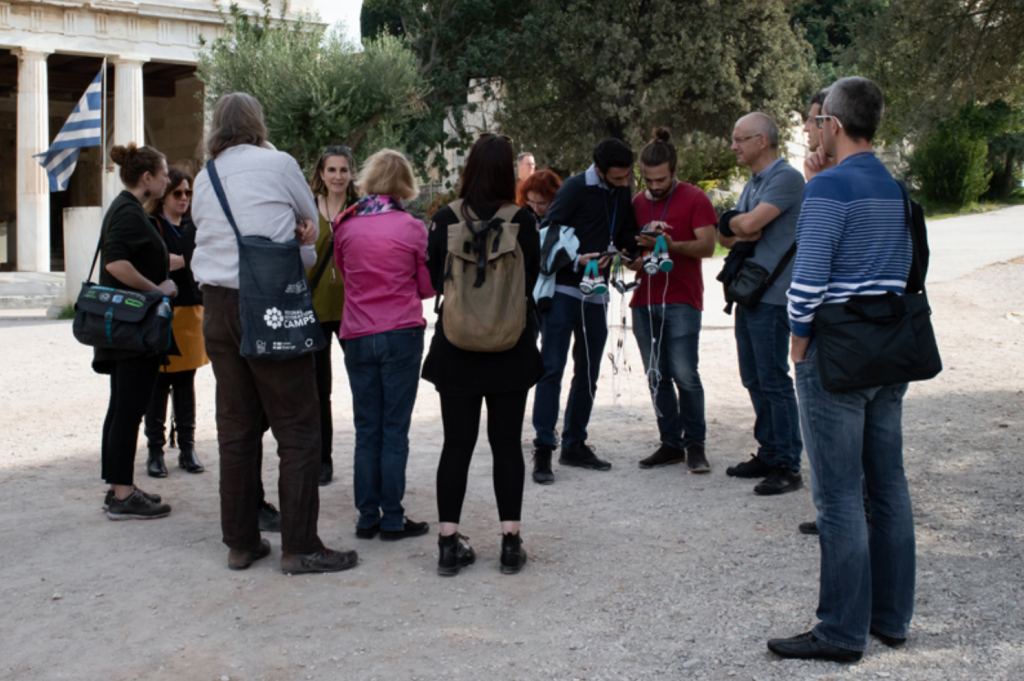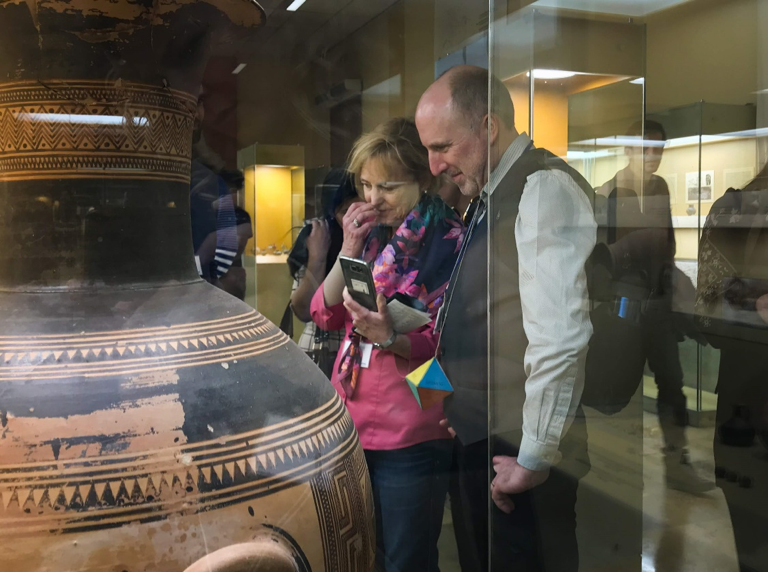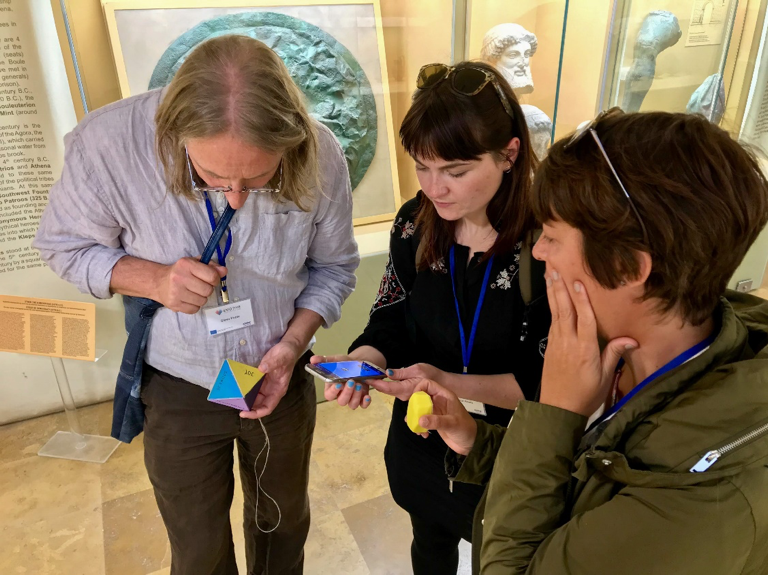 Figure 9: The 'Emotions Speaking' demonstration with a tangible object used to trigger emotive stories inside the museum of the Ancient Agora, experienced in pairs.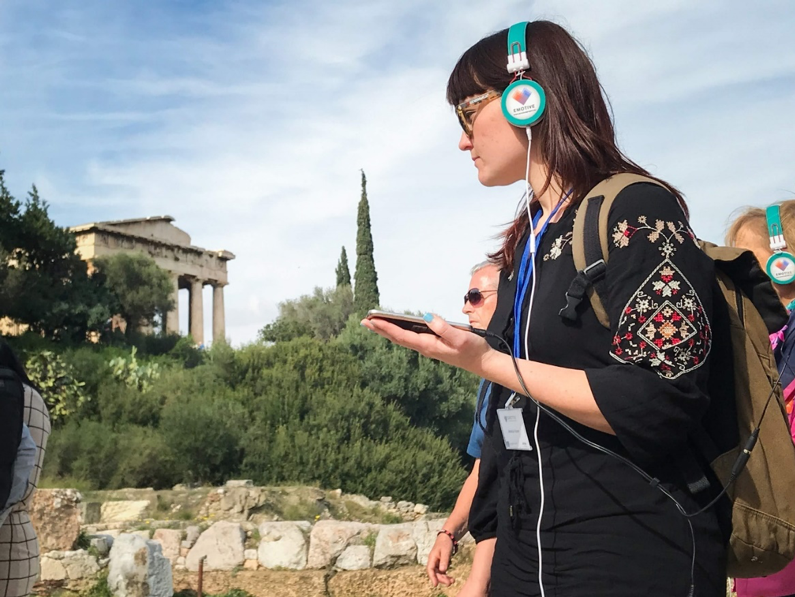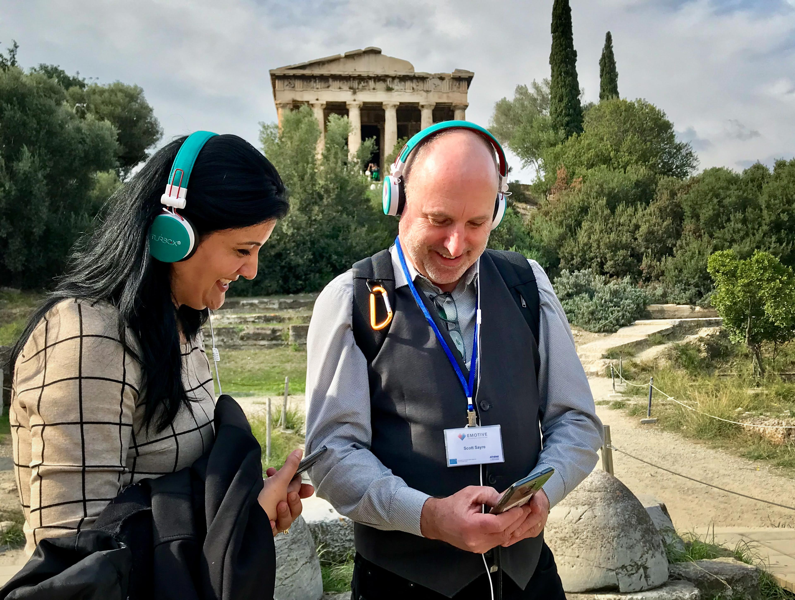 Figure 10: Experiencing a story about a slave in ancient Athens on site at the Ancient Agora, individually and in pairs.
Evaluation of Çatalhöyük Digital Schoolkit
Suitably refreshed and revived, our participants began the afternoon with a highly social activity - engaging with and evaluating the Çatalhöyük Digital Schoolkit. This is an educational tool designed for classrooms and informal learning settings, and is aimed at 11-14 year olds.
Encompassing 3D printed objects, virtual tours of prehistoric environments, and a multi-user chatbot, the Schoolkit encourages children to engage in constructive dialogue and collaborative decision-making with their peers as they explore the history of archaeological sites and the nature of the cultures that inhabited them. More information about the experience can be found in the deliverable D3.8 Pilot experience(s) based on platform beta release.
Our workshop participants were split initially into four groups, then were merged into two larger groups to engage in a facilitated dialogue experience with "Bo the Chatbot" (Figure 11). The playful Bo and our good-humoured groups proved an interesting match and much fun was had!
Afterwards, the participants completed a Schoolkit evaluation form and were briefly interviewed on their thoughts and impressions of the experience. As at all points throughout the day, the team engaged openly and positively and provided the EMOTIVE group with valuable and thought-provoking feedback.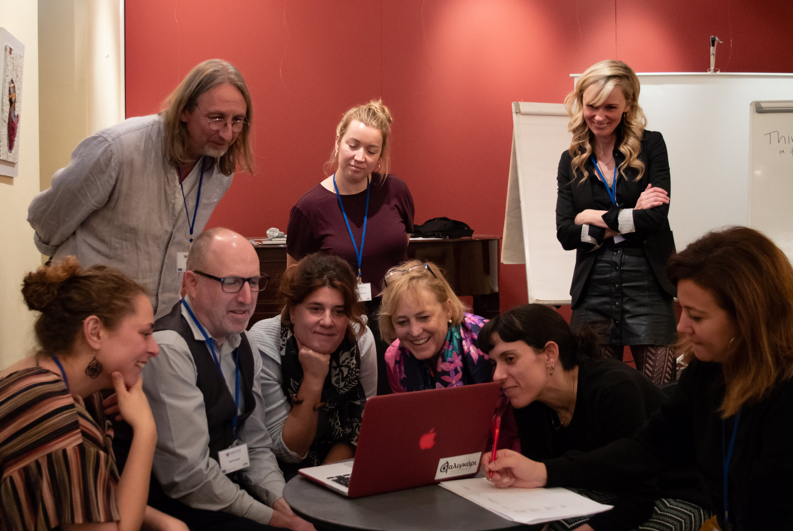 And with that, Day One came to a close. It was an intense day, packed with many experiences, interviews, written exercises and discussions. Our experts responded fantastically well to all that they were asked to do, and our researchers and evaluators gathered an enormous amount of focused, professional feedback.
That evening the team met up for dinner - a traditional Greek meal in a restaurant with a stunning view of the Acropolis from its windows. It was a chance to relax and chat, swap stories and get to know one another. A pleasant end to a productive day!
Photo Gallery
Visit EMOTIVE Gallery to see more photos from the workshop.
Workshop participants
We would like to thank all the workshop participants for their attendance and valuable contributions to EMOTIVE experiences evaluation processes.
External participants in EMOTIVE Workshop #2

Name

Institution

Speciality

Jessica Hoare

Cardiff University, UK

PhD Researcher: Emotional Geographies of Museums

Steve Poole

University of the West of England, Bristol, UK

Professor - History and Heritage

Alyson Webb

Frankly, Green & Webb, UK

Founding Member and Partner, consultant on use of Digital in CH. Recent project includes Van Gogh museum digital

Sarah Fairbairn

Wallace Collection, UK

Curator (ARCHES H2020 Project)

Helena Garcia Carrizosa

Open University, UK

ARCHES H2020 Project Research Associate

Rozhen Mohammed

Sulaimani Polytechnic University (Kurdistan region of Iraq), Iraq

Head of the Digital Cultural Heritage Research Group

Angela Antoniou

University of the Peloponnese

Psychologist

Scott Sayre

Corning Museum of Glass, USA

Chief Information Officer

Conny Graft

Conny C. Graft Research and Evaluation, USA

Research and Evaluation consultant

Tedi Asher

Peabody Essex Museum, USA

Neuroscience Researcher

Edward J. Rodley

Peabody Essex Museum, USA

Lead media developer

Anna Foucher

Peabody Essex Museum, USA

Interpretation Planner / evaluation professional

H. Chad Lane

University of Illinois, Urbana-Champaign, USA

Associate Professor, Department of Educational Psychology